PREDMICRO2014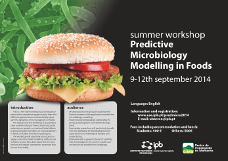 This is a four-day summer workshop to provide participants with an excellent opportunity to learn the different approaches to mathematically represent the dynamics of microorganisms in foods.
The objective of the workshop is to provide a clear understanding of how to obtain accurate estimates on growth, survival and lethal effects of processing environments on microorganisms in foods, including food-borne pathogens, using the R software.
The workshop will also allow participants to apply current microbial modelling ready-to-use software tools such as the Integrated Predictive Modeling Program (IPMP) from the USDA, and to formulate foods with intrinsic barriers and design intervention processes that ensure safety against pathogens in foods.